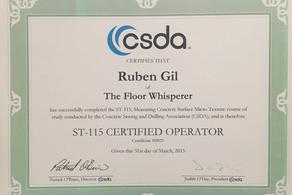 CALL NOW!!!
(951)545-7769
(949)300-6669
CALL NOW!!!
(951)545-7769
(949)300-6669
The Floor Whisperer is run by Ruben Gil. Ruben has experience with concrete polishing, natural stone, and other specialties needed to be the best in this area of work. He is also has many certifications, including a Contractor's License, a Husqvarna Surface Preparation Skills Training, and many more. Ruben has been recommended for his magnificent work, as he takes his time with each floor to find the problem, and fix it. He would never use a product or method that he would not use in his own home to ensure that all his clients are safe.

Before The Floor Whisperer, Ruben ran his previous company under the name of Formula One Steam Cleaning. This business ran from 2004, up until 2008, when a client sparked the idea of "The Floor Whisperer." Ruben then changed his business name to the new and catchy title.

Call today for a free consultation!

(951)545-7769

(949)300-6669